10 Year-Old Boy Dies of Neck Injury After Riding the World's Tallest Water Slide
Kansas City is in complete shock after a 10 year-old boy died at the Schlittenbahn water park on Sunday. Caleb Schwab was riding Verrückt, the world's tallest water slide, when he sustained a neck injury that caused his death. Caleb was the son of Republican Representative Scott Schwab. After the tragic incident, the ride has been shut down for further investigation.
What Went Wrong?
The investigation into the boy's death is still ongoing, which means there are lots of unanswered questions. Here is what we know so far:
The ride requires at least 2 passengers with a weight totaling between 400 and 500 pounds.
The ride also has a height requirement of 54″. There have been no statements as to whether Caleb was tall enough for the ride.
Caleb was riding with two other women, to whom he was not related. We do not know if the 3 riders met the weight requirement.
Verrückt is the world's tallest water slide. It is taller than Niagara Falls and the Statue of Liberty.
Rides are tested daily, but water park officials said that they can't confirm when the Verrückt's last safety check was performed.
Several riders complained about harnesses not working properly.
The Ride's Shaky History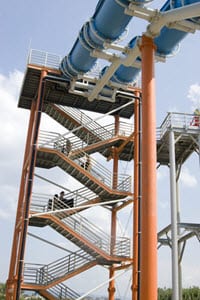 Verrückt, which means "insane," in German, opened in July of 2014 after being delayed a couple of times. It was originally supposed to open on May 23 of that year. During some of the test runs, the sand bags put in place as test dummies were dislodged from the ride. The ride was then redesigned and rebuilt to make it safer. The designers tore down two-thirds of the ride and rebuilt it. Once the new design was complete, the ride was ready for the public. Because they believed the ride was safe enough for the public, the designers of the ride took the inaugural ride on Verrückt.
What Happens Now?
A thorough investigation will be performed to determined exactly what happened on Caleb's fateful ride. Kansas state law states that a permanent amusement park ride will be inspected by a qualified inspector every 12 months.  It's possible that Caleb's father, Representative Scott Schwab, may propose laws to change the inspection of amusement park rides.
Have You Been Injured in an Amusement Park?
This is only one story of a young boy losing his life at an amusement park. Sadly, there are more. If you have been seriously injured or have lost a loved one due to the negligence of an amusement park, contact Lowenthal and Abrams. Our personal injury lawyers have over 40 years of experience fighting for people for who have been wrongfully injured of killed.